Overview
The Portfolio Overview provides you with a comprehensive overview of your company's applications and how they're being used by employees. Whether you have 10 apps or 1000, the Portfolio Overview tab allows you to visualize the amount of time employees are spending in each application and understand how their usage is changing over time.
While you may have made assumptions in the past about how much time your sales team is spending in Salesforce, or how much time your development teams are spending in JIRA, the Portfolio Overview tab turns your guess work into data-validated conclusions. If an application is being used far less than you expected, or far more than you expected, you may want to implement training or reduce the number of apps your company pays for.
The multi-select dropdown places no limit on the number of applications you can analyze on the Portfolio Overview tab.
Requirements
Filters
There are four filters visible at the top of the Portfolio Overview screen. There is also one button, "Pivot Data" included in the row of filter.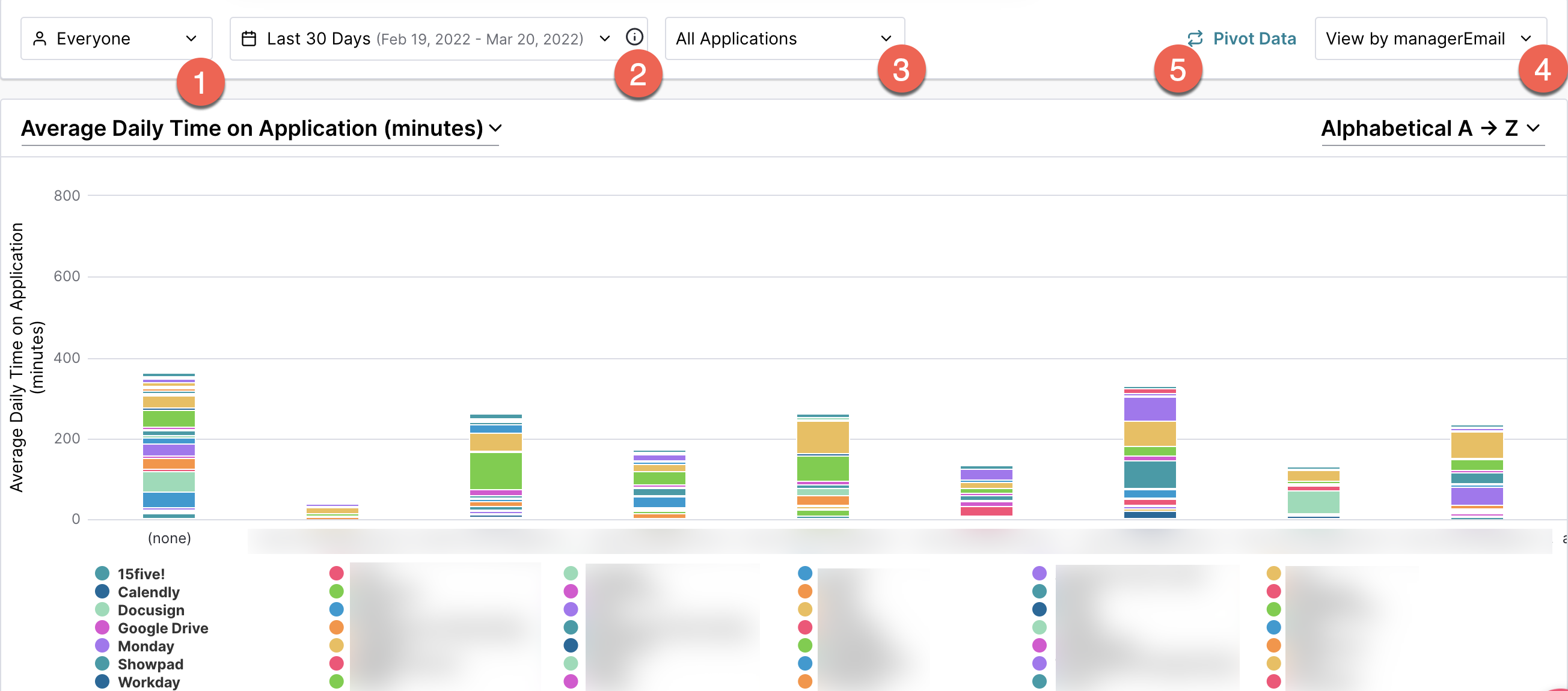 Segment (1)
Defaults to Everyone i.e all the employees in your subscription. Additional out of the box segments includes:
Browser: Chrome

Browser: Safari

Browser: Internet Explorer

Time Since First Visit < 30 days

Time Since First Visit 31 - 60 days

Time Since First Visit 61 - 90 days

Time Since First Visit 91 - 120 days
Note: "Last X days" means "Last X complete days", i.e. not including today (since today is only a partial day).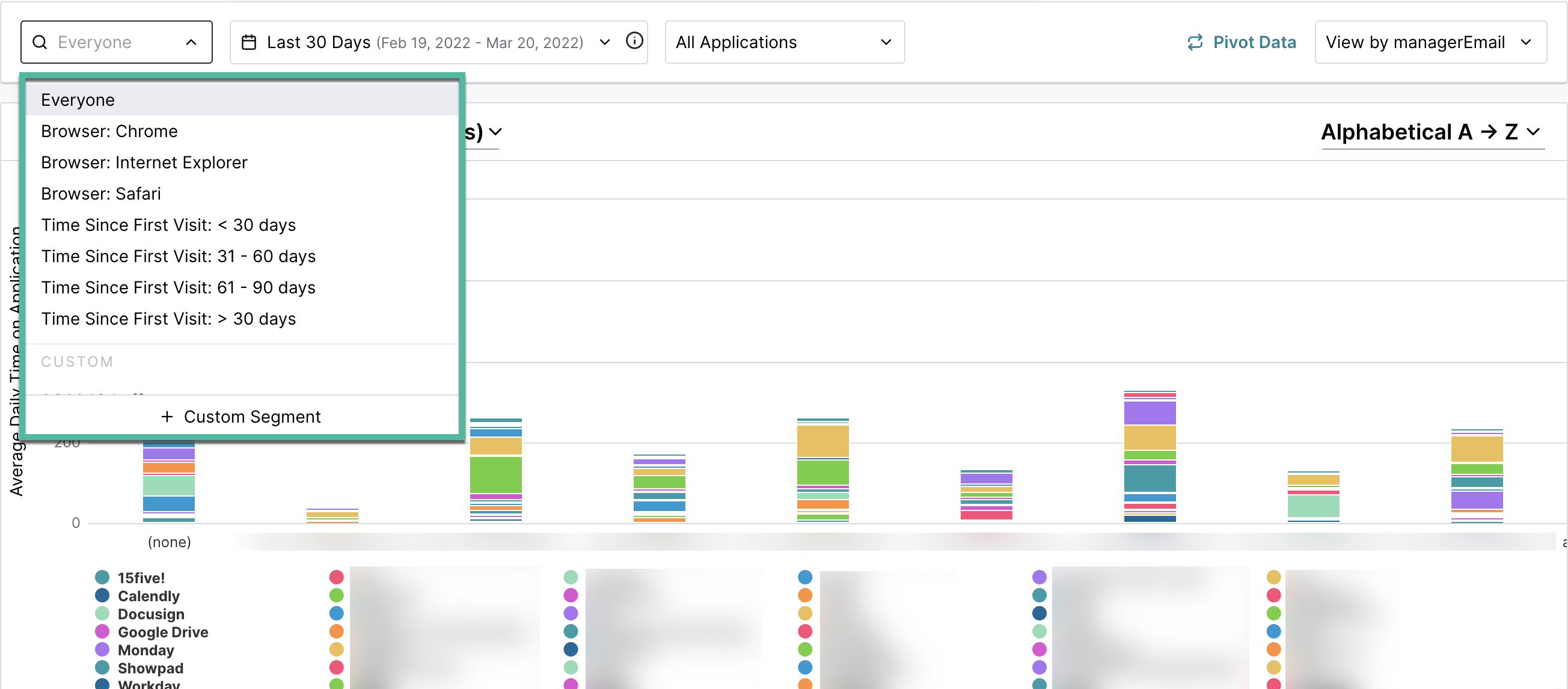 Underneath these out of the box segments you will see a list of your custom segments to choose from. Custom segments will allow you to view how certain functions and departments are leveraging their applications i.e if you'd like to view how often your Marketing team is using Marketo, you can create a Marketing custom segment and filter usage just by that team.
Date Range (2)
Select a date range, or pick your own custom date range, and select the data breakdown within the date range. Date range options are:
Today

Yesterday

Last 7 days

Last 30 days

Last 90 days

Last 180 days

Custom Date Range (Max 180 days)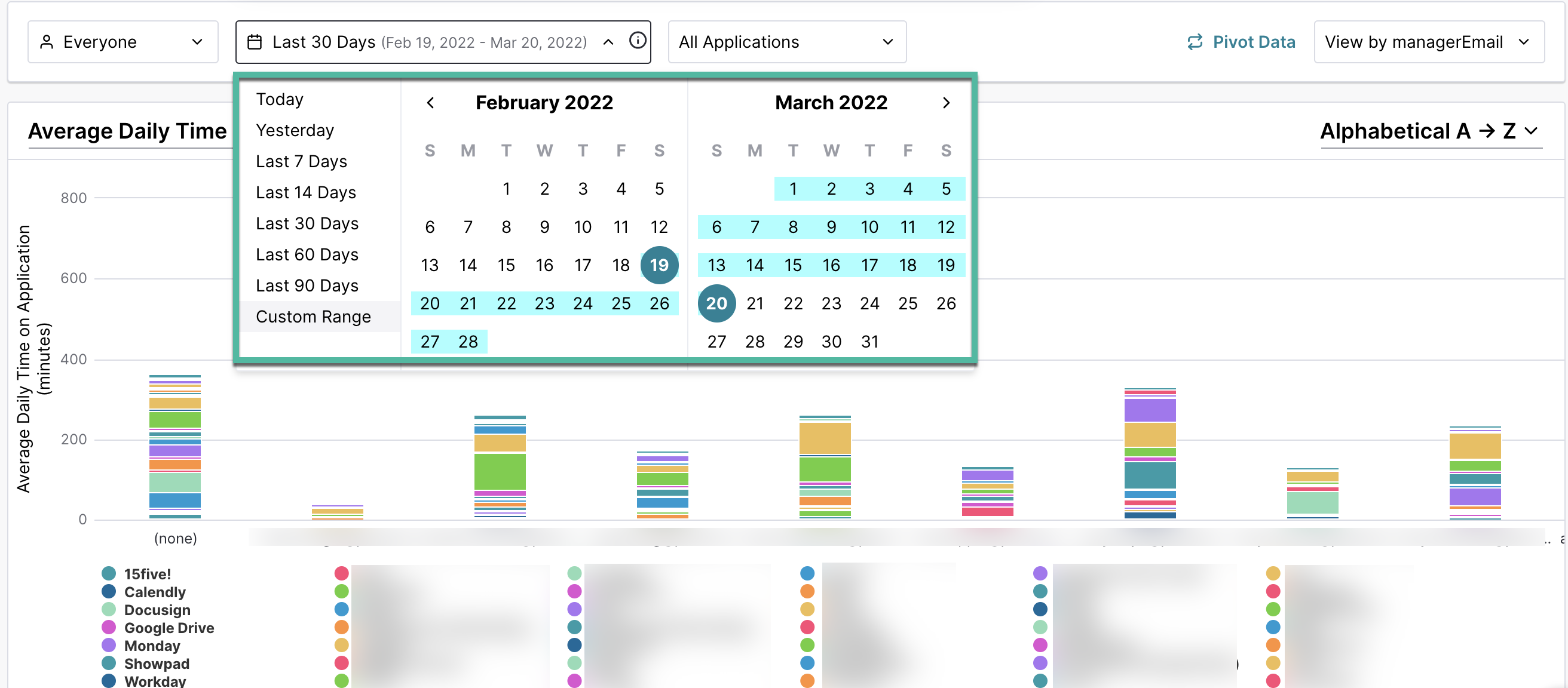 Application Multi-Select (3)
Select which applications you would like to analyze by clicking on the checkbox next to the application's name. Each application that is selected will appear in the Selected column, and this column can be cleared via the Clear button located to the right of the Selected header.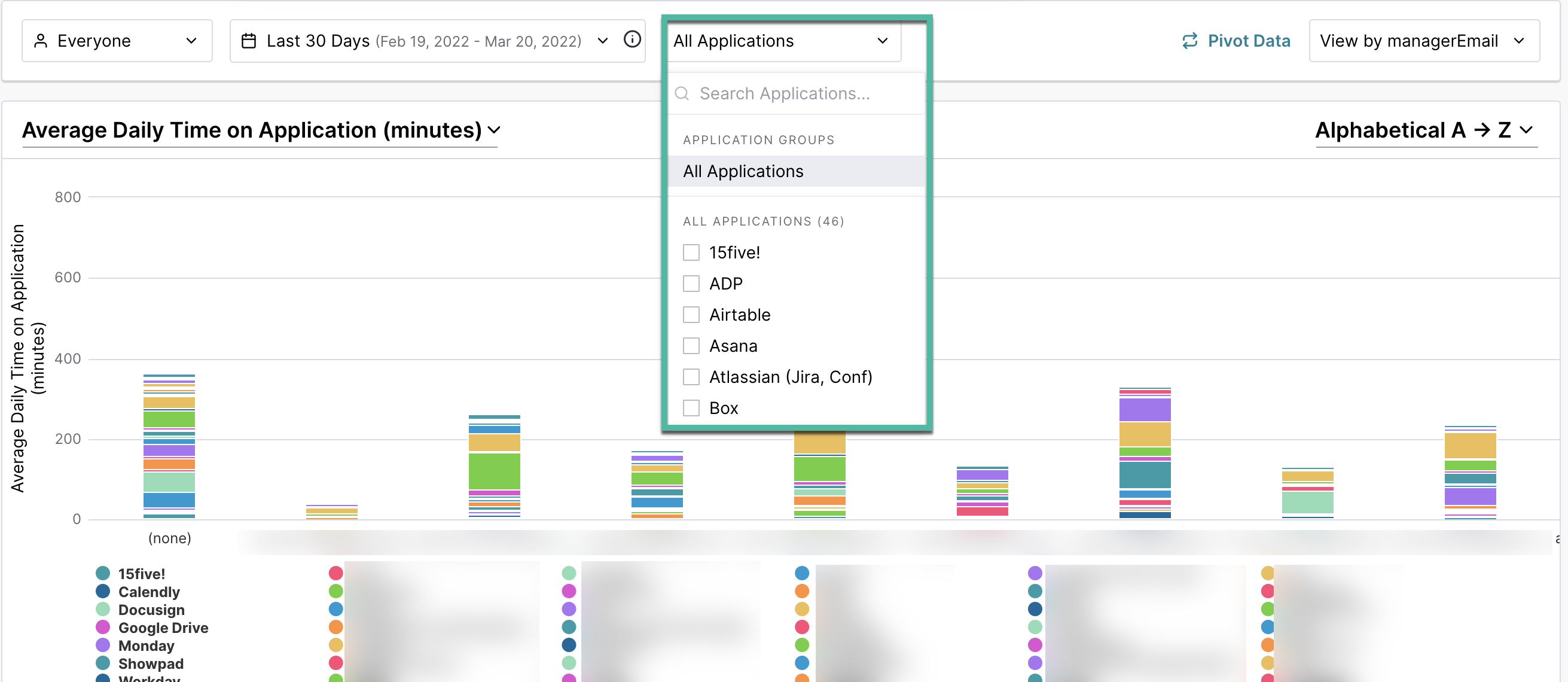 Search Applications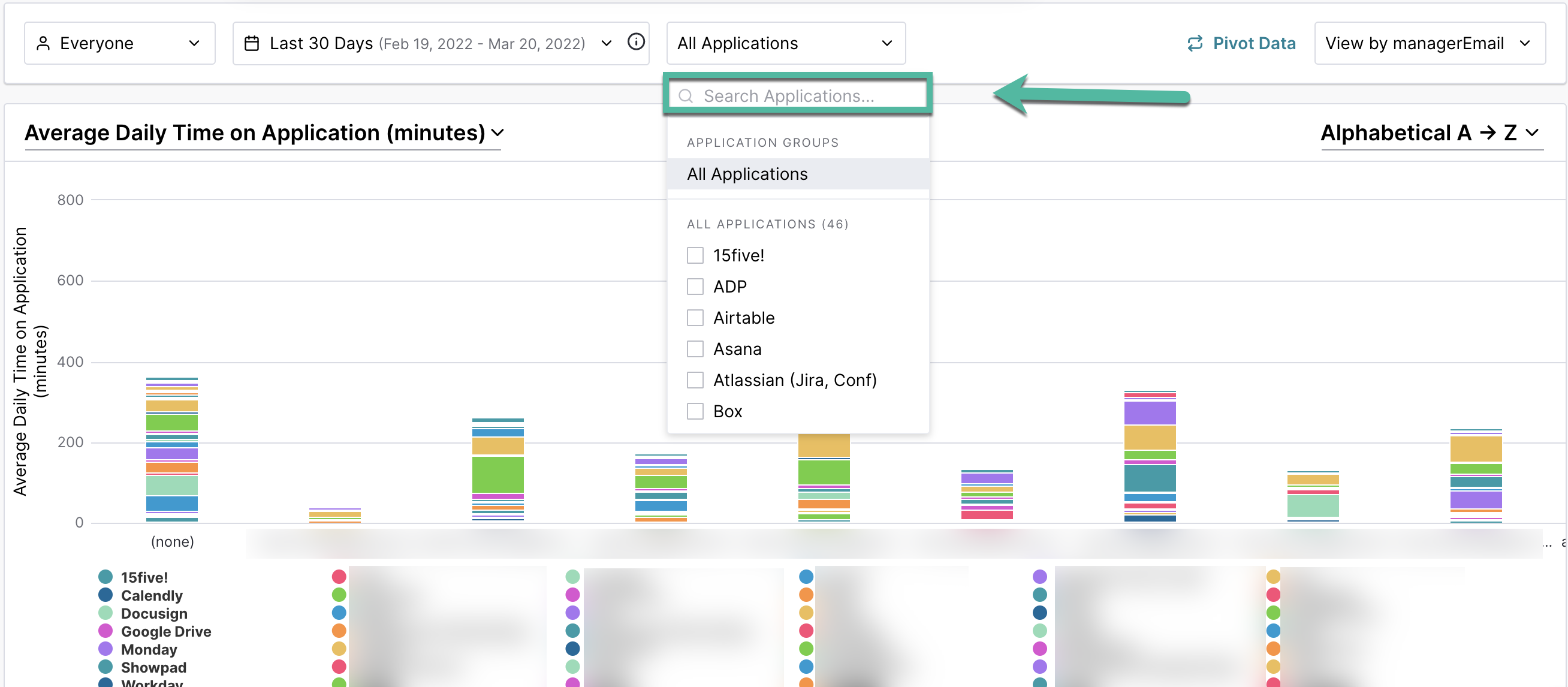 You can search for the specific applications you'd like to analyze via the search bar located below the multi-select dropdown.
View by Total or Custom Metadata (4)
Total is the default filter and is for all visitors over the given range. You can also filter by the custom metadata fields, such as language or email, you've added to Adopt.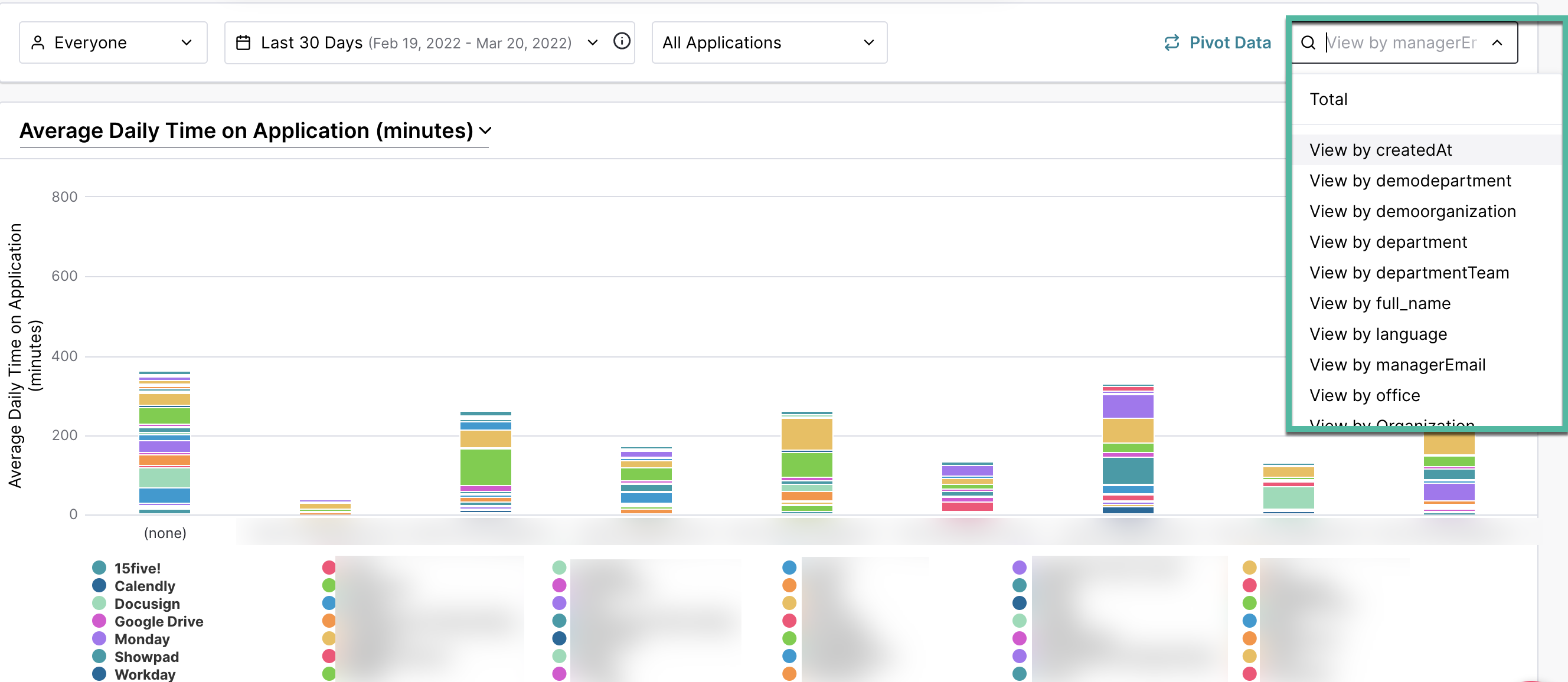 Pivot Data (5)
The "Pivot Data" button allows you to change between app(s) to the selected the custom metadata field on the X axis in the Portfolio Overview. For instance, if you select View by Manager as your Custom Metadata filter and then click Pivot Data, the x axis legend will display the name of all your manager emails. When Pivot Data is clicked again, the x axis legend will display the applications in the subscription.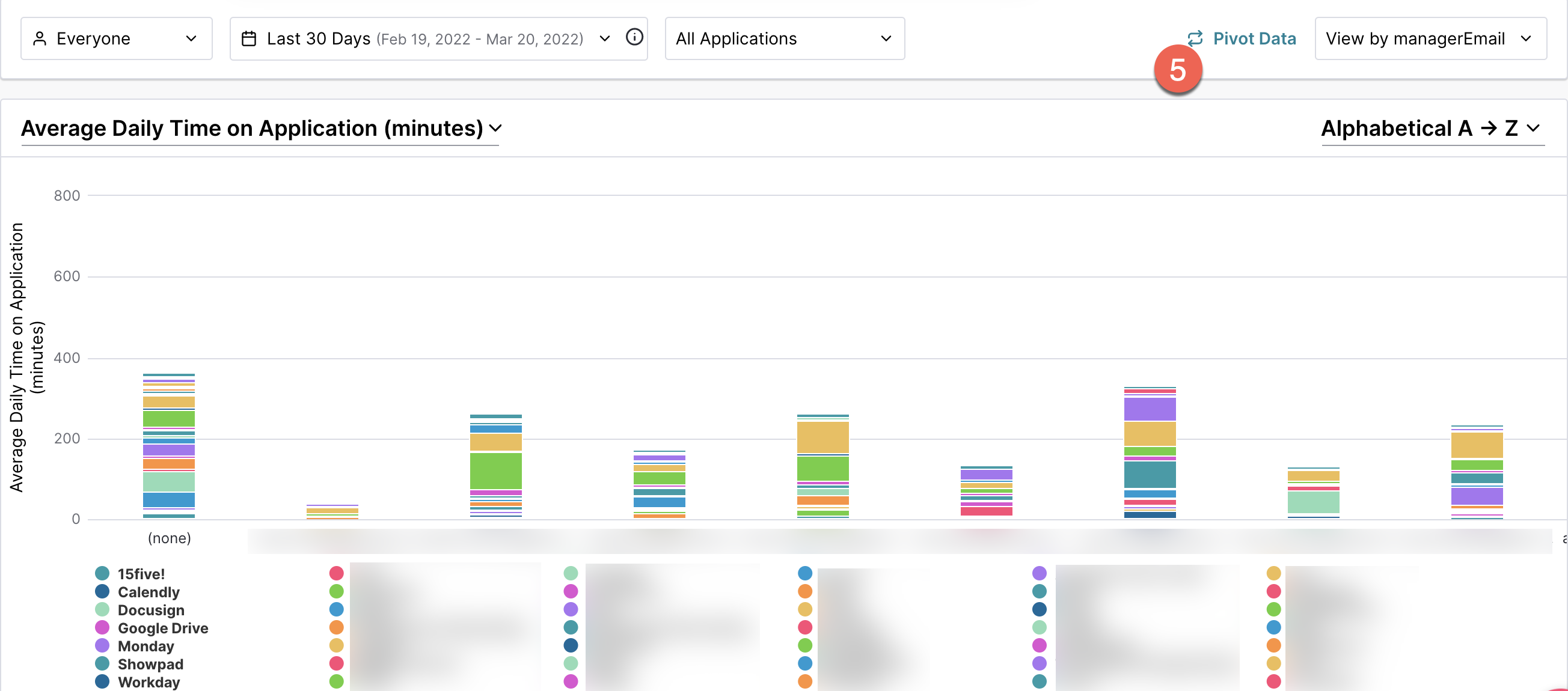 Bar Chart Breakdown
X axis
The filter you select via the "View by Total or Custom Metadata" dropdown is the X axis of the bar chart.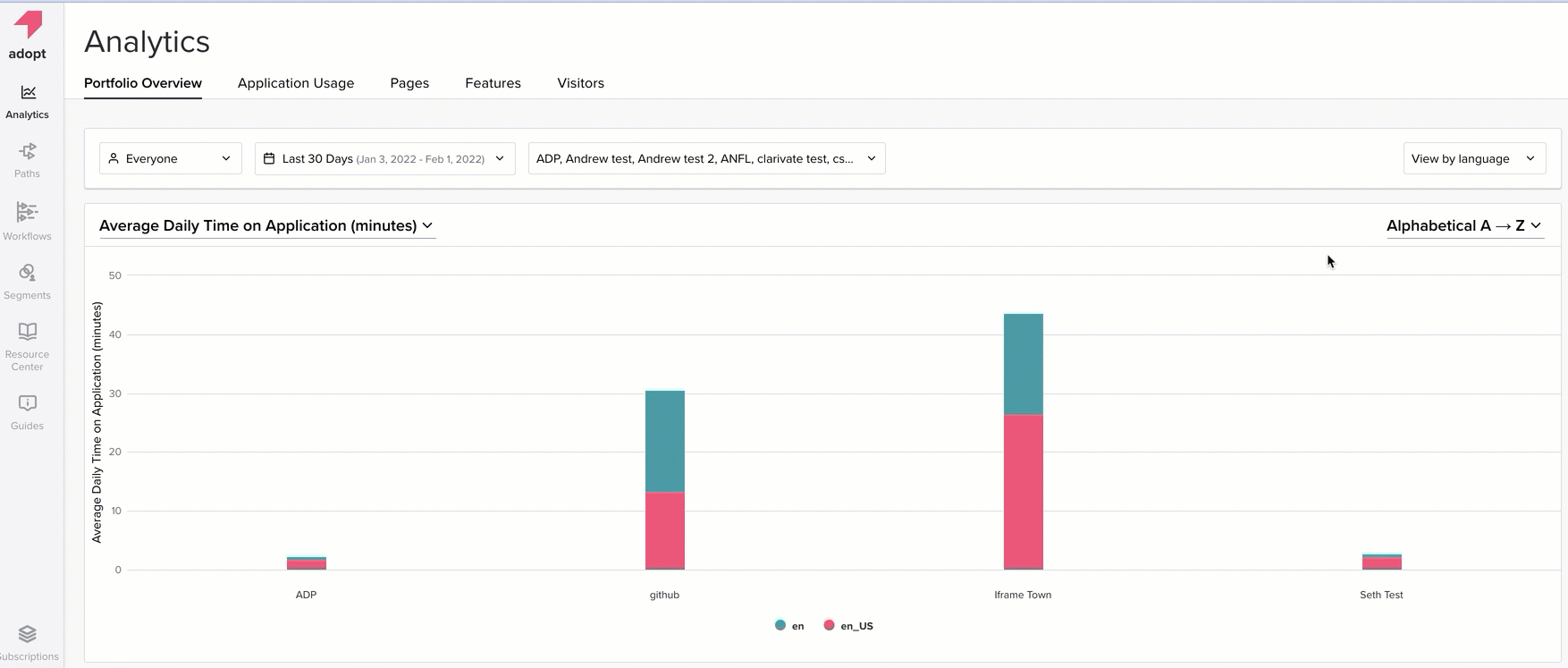 Y axis
The Y axis is determined by the dropdown filter located below the first row of filters. The filter will default to Average Daily Time on Application (minutes). This metric refers to average time spent per day. Additional options include Visitors and Time Spent on App. Time Spent on App refers to total minutes spent across all employees.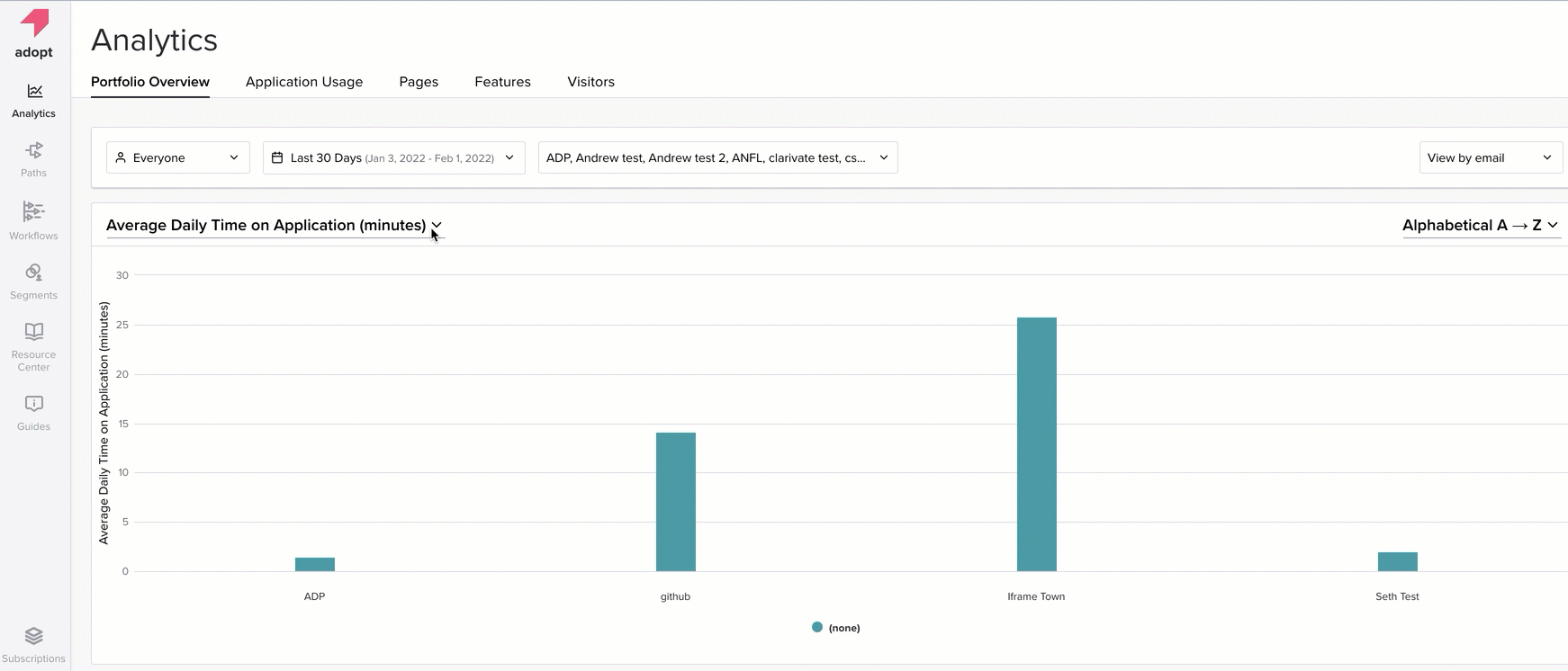 Sort Applications
Applications can be sorted in 4 distinct ways:
Alphabetical A → Z,

Alphabetical Z → A

Most → Least Active

Least → Most Active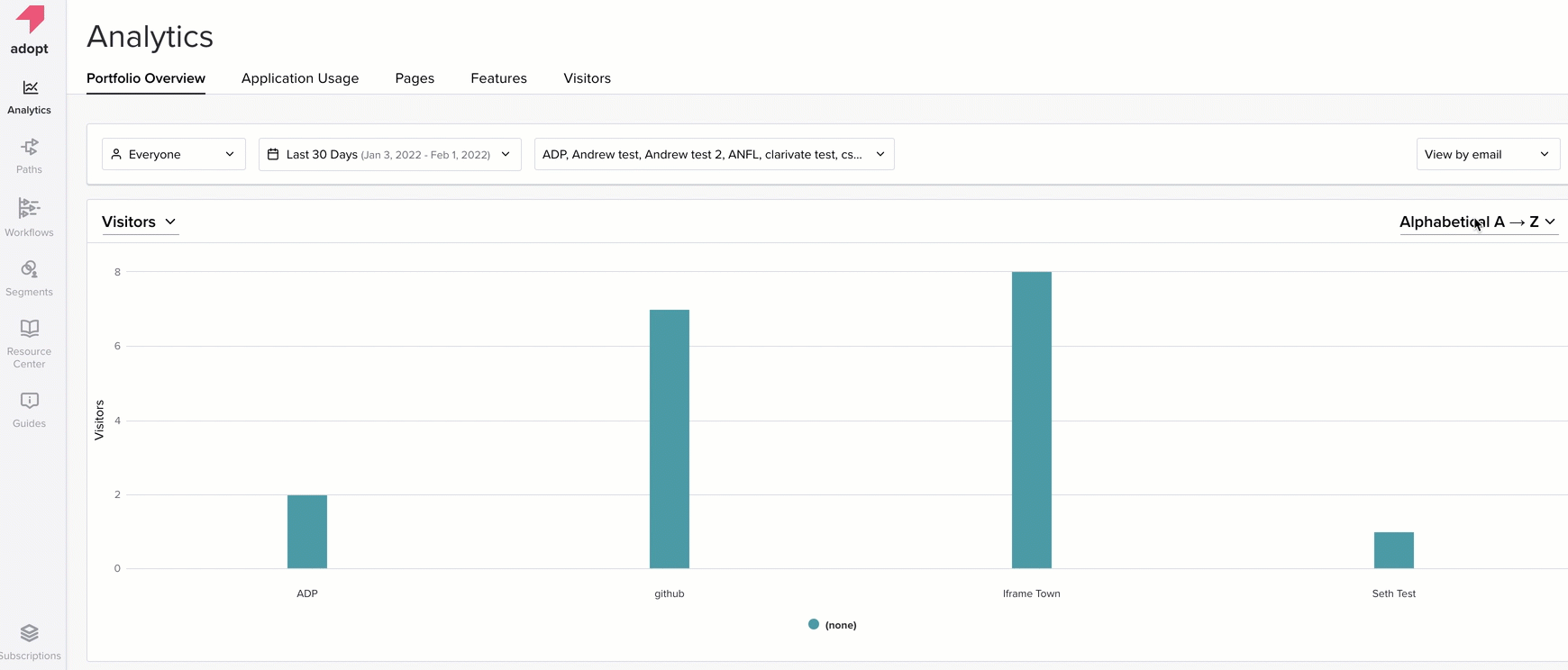 Most and Least Active are determined by seeing which applications have the highest and lowest average time spent on the application.
View Each Application
Hover over one of the individual bars to view specific data on each application.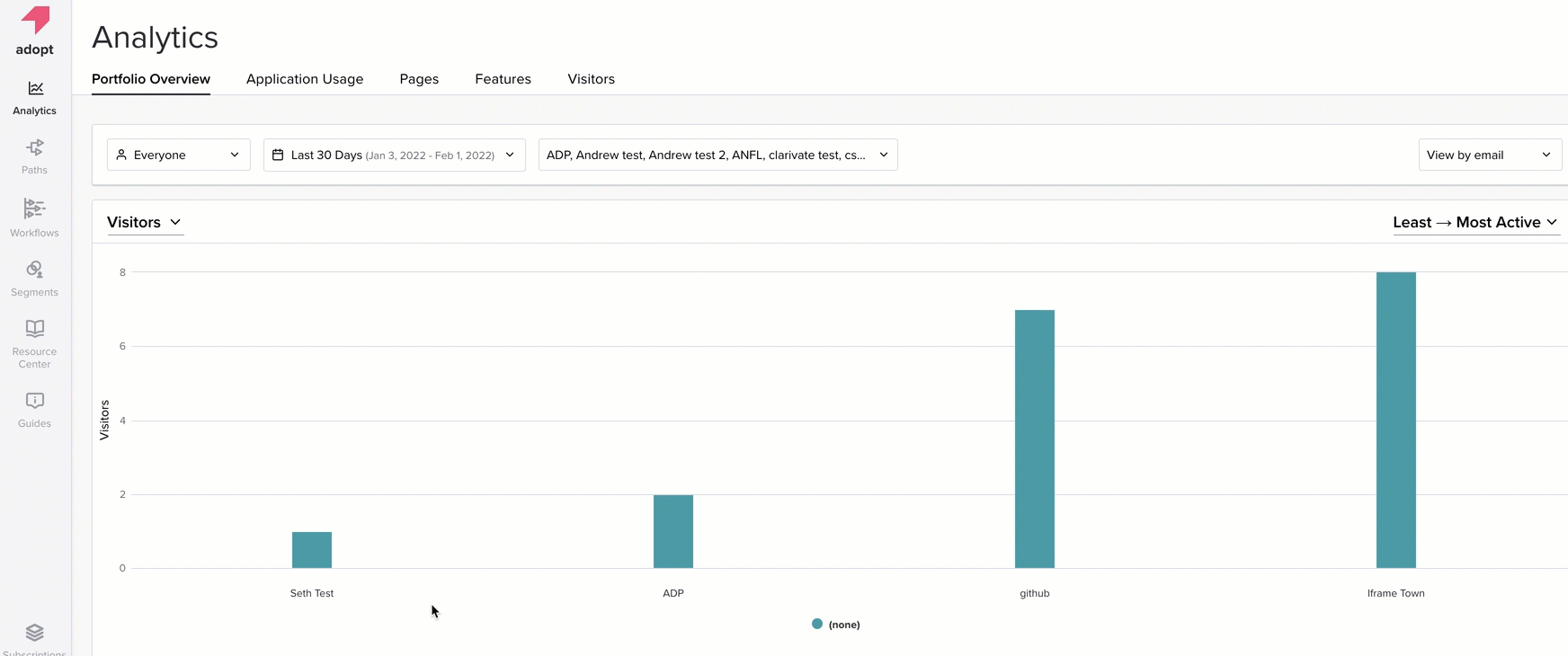 Usage by App
This section gives you more in-depth information on the filters you selected as well as the ability to drill into how specific teams are utilizing your application on a per week or per day basis.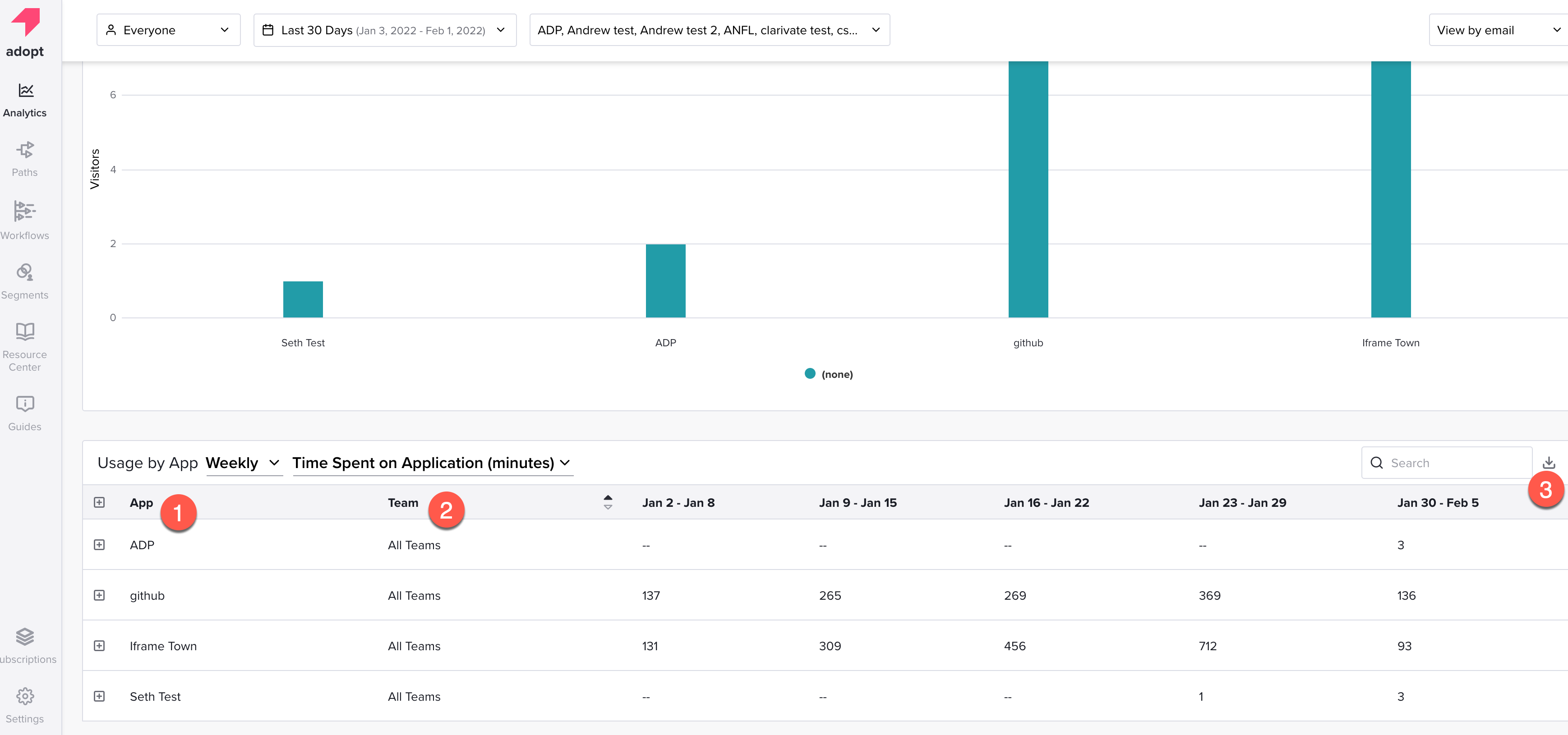 App (1)
Each application you selected in the multi-select dropdown will appear in this column.
Team (2)
All Teams refers to your entire company being accounted for in the data. It is the default setting. If you filter by custom metadata, such as email or language, you can get a granular view of how your application is being viewed in the context of the specified field i.e view application usage by language.

Download as CSV (3)
The entire table can be downloaded as a CSV file via the "Download as CSV" button.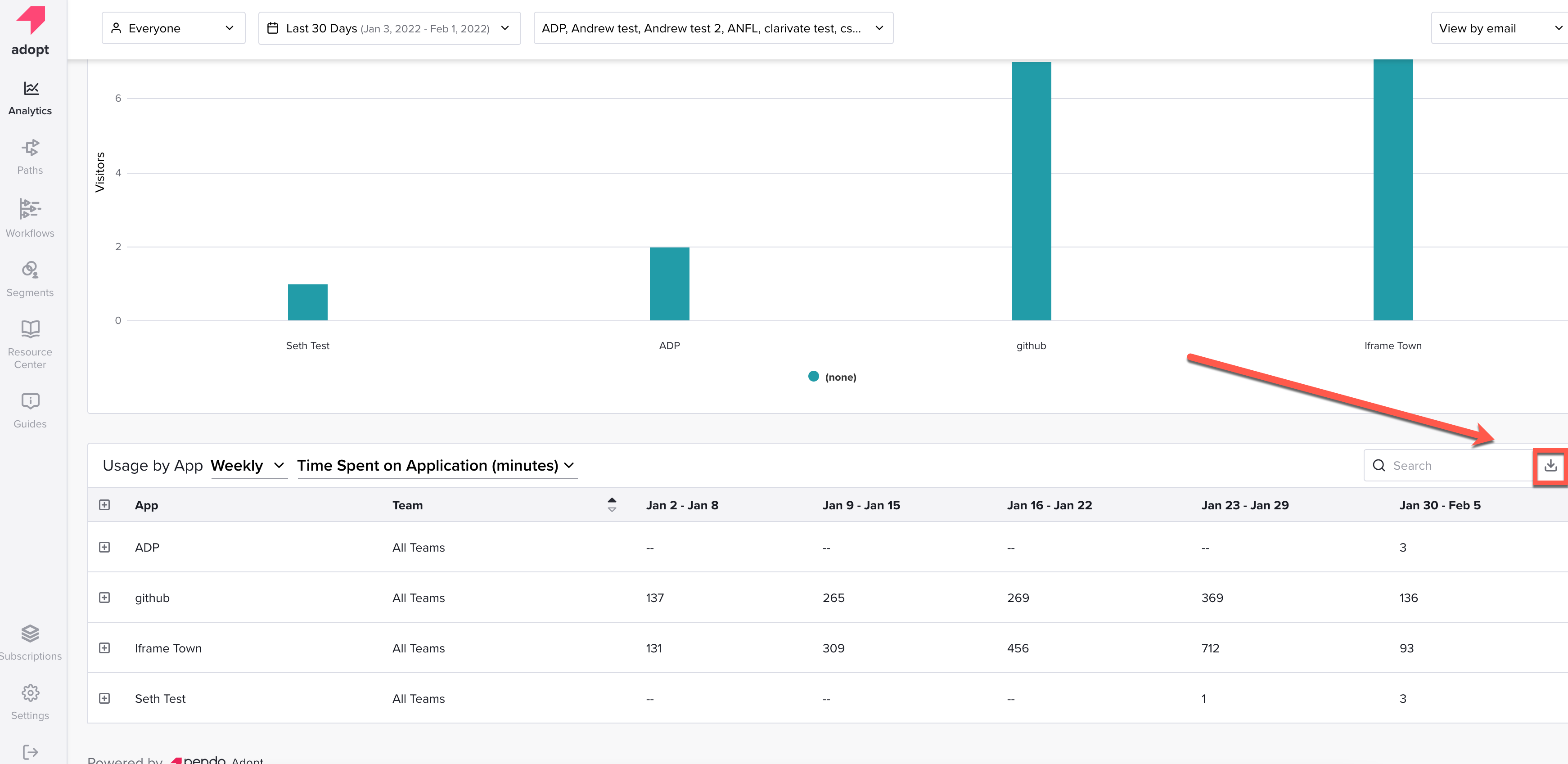 Filters
Usage by App can be filtered either weekly or daily and it can also be filtered by Visitors or Time Spent on Application.

Changing the date range filter will change the columns while changing the Visitors / Time Spent on Application filter will change the data presented on the X axis.